Mystery on the Mound - RESCHEDULED FOR September 17th
Ever play the game Clue or imagined yourself as an aspiring detective to solve daring and devious crimes? Join us for Mankato's first outdoor murder mystery dinner at ISG Field. Have a heart-thumping evening playing whodunit and enjoying a "deadly" meal for a "murderously" good time! Individual tickets are available through this webpage or stop by our office to purchase tickets in-person... 1730 Bassett Drive in Mankato!
Your ticket includes a seat at ISG Field, dinner, a 6pm social hour followed by a 7pm dinner, and a murder-mystery play. You can also let us know if you want to be a participant in the theatrical event!
Join us on September 17th at ISG Field for a suspenseful dinner event! The event starts at 6:00pm with a social hour and cash bar.
We hope to see you there; get your tickets below!
She Nailed It! - September 12th thru October 8th
Calling all women... This "hammer-it-home" three-week event is back by popular demand! Join us for a 5-hour day on our construction site as either an individual or as a team. No experience necessary! Help raise a roof, raise some money for Habitat, and help other women raise their families in safe and affordable homes.
Call us at 507-388-2081 for event details!
Playhouse Raffle - July 16th to October 7th
We are so excited to raffle off this playhouse, donated by Schmidt Siding & Window! The money raised will help Habitat for Humanity South Central Minnesota build homes for families in the local area.
Thank you to Schmidt Siding & Window and their team for this generous donation!
Learn more on our webpage about the raffle!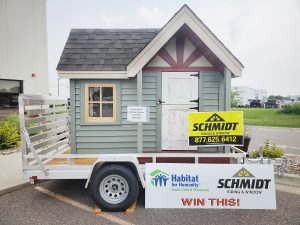 Drink a little... buy a lot in New Prague! - October 16th
HFH - New Prague Chapter invites you to to attend their event in support of Habitat in New Prague!
The event is at Giesenbrau Bier Co. Brewery, located at 1306 1st St NE, New Prague.
Saturday, October 16th from 2pm to 7pm
There will be music, a silent auction, craft beer, and a food truck! Your $40 ticket purchased in advance gets you one beer mug or two locally handcrafted wine cups with beverage ticket when redeemed at the event and is a $25 tax deductible donation.
Money raised supports buying a lot in New Prague for a new Habitat home!
Purchase tickets by emailing HabitatForHumanityNewPrague@gmail.com or call 952-758-7622
Facebook.com/HabitatforHumanityNewPrague