Committee Member Opportunities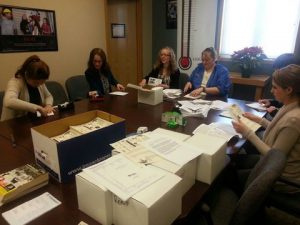 Committees typically meet monthly and opportunities are available in:
Building and Land Acquisition Committee
The Building and Land Acquisition Committee develops and implements the construction plans for Habitat homes. The committee partners with our Habitat families to meet their needs and tastes from start to finish in the building process. Direction the committee provides runs the gamut from house design to contractor bid, safety guidelines, land development, and addressing repair concerns.
Faith Relations/Thrivent Committee
The Faith Relations Committee works to build awareness of Habitat as a Christian ministry and how Habitat can help area churches. The primary role of the committee is to identify contacts in various churches and to provide "door openers" into as many congregations as possible.
The committee also works with the Thrivent Builds program, as well as with the PR/Fundraising Committee to assist with events and overall fundraising to complete Habitat houses.
Family Selection Committee
The Family Selection Committee reviews applications for interested families. Committee members conduct confidential home visits that are conducted with the utmost respect for the family, while successfully obtaining information regarding the family's level of need.
Family Support Committee
A Family Support Committee member troubleshoots to learn how to work with family, forming the guidelines and training and serving to "support the support." The committee provides resources, guidance and education by building a relationship with each family in an effort to better equip them for home ownership.
Partnering Community Committee
The Partnering Community Committee helps the mission of Habitat for Humanity of building simple, decent and affordable housing with and for families in need. The committee works with the other committees to carry out their assigned missions.
PR/Fundraising Committee
The PR/Fundraising Committee is responsible for funds to help build Habitat homes. The goal of the committee is to help plan a minimum of two fundraising events in the community and create a mailing list (Thousand Nails Campaign, Carpenters Club, etc.) to keep the community well informed of our events. Committee members set a dollar amount of funds to be raised for the year and record progress toward that goal.
To Volunteer
If you are interested in volunteering with Habitat for Humanity South Central Minnesota in any capacity, please click the button below. The Volunteer Coordinator will contact you.