Habitat Families
Abby Martin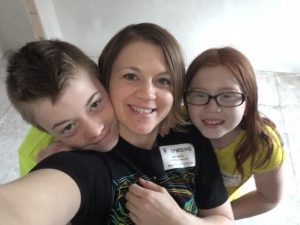 I'm Abby, a single mama of two completely awesome kids, Corbin age 11, and Ahna age 9. We moved to St. Peter about three years ago. I lived around Clearwater, Minn., most of my life. We love living down here. I've had my own cleaning business for many years and once I moved down here things fell into place with that.
Read more
We were approached by someone awhile after we moved here and asked if we'd ever considered Habitat for Humanity. At the time I was very okay with renting. Then I met and became very close friends with someone who already had a habitat home. As time continued the idea of having our own home grew on me. Within a year of living here, my kids said they didn't want to move ever again.
So in March/April of 2017, I thought, I'll fill out the papers. I was told maybe a year or two from then it would become an option. I was perfectly fine with that idea. Then a month later I was told something had fallen thru with others and a house was available and already partly built! We were so excited!! We drove up to the high school to see our someday home and we haven't stopped enjoying it since. We've met many wonderful volunteers, I've had the privilege of helping a little bit on my neighbors basement, painting and siding at our house, and my favorite so far picking out flooring and cabinets!
I am so grateful for this opportunity. It's so nice to meet new people and appreciate their willingness to help make our home a reality. My parents and sisters all live over two hours away but have come to help paint and put siding on our house so far. I'm sure they'll continue to help as things go along. I can't wait to see how everything turns out!
Thank you Habitat for Humanity!
Curtis and Ann Peters

We first met while Curtis was on leave from the Air Force, visiting a friend from high school in Mankato.  It was a textbook case of love at first sight.  Planning for a wedding started not long after, and we were married on June 8th, 2013, at Saints Peter and Paul Catholic Church in Mankato.
Read more
Once we were married, we moved to Madison, Wisc., so that Curtis could work in one of the local hospitals.  But, once that we found out I was pregnant, we decided to move back to my hometown of Mankato.  Three years later, we are the proud parents of two handsome boys, Owen (3) and Evan (1), with a third little boy on the way in August!
After spending our adult lives bouncing from apartment building to apartment building, we are eagerly awaiting the chance to have a home that is officially ours, and no more leases!  It will give our children a chance to have a stable home, with a yard to run and play in.
Michelle and Jason
After living in their trailer for nearly seven years, Michelle and Jason became a Habitat for Humanity of South Central Minnesota partner family. The home dedication for the two and their four children was an event to celebrate.
Read more
Reoccurring mold had impacted the family, especially their young twin girls, Rachel and Nicole, 5 — both were diagnosed with asthma.  Prior to moving into their Habitat home, Michelle's kids were getting sick all the time.  "God was telling me it was time to get my butt in gear," she says.
When Michelle first came into the Habitat office, however, she had some other hurdles to overcome before the affiliate was able to partner with her in providing a better home for her family.  Michelle and Jason had bad credit, so the first task was rebuilding that.  Their poor credit was preventing them from moving.  Habitat also worked with the family in creating budgeting plans as well as other methods of preparing the couple for first-time home ownership.
Michelle and Jason were instantly placed at the top of the priority list.  Michelle is ecstatic about the opportunity her family has been blessed with.  Through teary eyes, she recognizes the "opportunity she has been given for change and to bettering the life of my family.  The stress of affording shoes for my children has been lifted."
Kuany Family
A native of Sudan, Nyanchiew (Nán-chú) Kuany and her family moved to Mankato in 2008 in search of a better place to live for her family and, more specifically, for her disabled son. First arriving in Mankato, Nyanchiew and her family found it difficult to find affordable housing. They were able to move into transitional housing that was limited to two years
Read more
In January of 2009, Nyanchiew suddenly found herself a single parent providing for her five children. A tragic car accident left her a widow after her husband was killed in the accident. Her son was also in the car and was severely injured. Nyanchiew started working in the summer of 2009. She found it difficult to feel comfortable leaving her children at home while she was at work. She would often work overnights to provide for her family.
After a year of residing in Mankato, Nyanchiew heard of the opportunity from friends at her church of what a Habitat home could provide. Because of rumors about Habitat having a difficult application process, she was hesitant about applying. Nyanchiew soon found out that Habitat makes it easy to apply for a home.
"You know your friends will tell you about good things, because they love you and want the best for you," she says.
In the beginning stages of construction, Nyanchiew was very apprehensive about being involved in assisting with the manual labor. Eventually, she became comfortable enough to be on the roof hammering on her own shingles. She volunteered numerous hours on Habitat-related activities, such as putting in 50 hours of work at the ReStore and helping organize a potluck. Nyanchiew also made a traditional Sudanese dish to share with the Care-a-Vanners during their stay in Mankato.
With all of the constant moving from place to place and changing schools numerous times, the children will soon have a sense of security in their new home. Nyanchiew expresses that she will feel comfortable leaving her family when needed and not having to be concerned with their safety.
The Kuany family moved into their home in 2012. It was because of Nyanchiew's determination to keep moving forward that she is in the process of helping build her home. The Kuany children are thankful for Habitat and will be able to have a place to play and call home. "I got my dream because I have Habitat," said Nyanchiew.