Habitat for Humanity partners with homeowners to build simple, decent and affordable homes. Habitat is a hand up not a hand out creating empowerment and not dependency.
Future homeowners purchase newly constructed homes for an affordable mortgages.
Process:

Potential homeowners apply for the program and begin the selection process.

Homeowners partner with Habitat to build a new home

Homeowners must put in 200 hours of sweat equity per adult, in lieu of a down payment, into the construction of their home and participate in educational series covering finances and home maintenance throughout the 1-2 year building process.

Homeowners prepare for closing.

Homeowners move into a safe, stable, and affordable home!
Currently Accepting Applications For:
Building in Nicollet, Mankato, North Mankato, St Peter and Eagle Lake are currently scheduled through 2024, and we are no longer accepting applications for those locations. Sign up for our Stay Connected monthly build update to stay informed on locations we are currently accepting applications.
Qualifying for Homeownership
HFHSCMN serves Blue Earth, Nicollet, Le Sueur (including the entire city of New Prague), Sibley, and Watonwon counties.
Three Criteria:
1. Able to pay an affordable mortgage.
Habitat Homeowners purchase their home. We secure affordable financing.
2. In need of better housing.
Applicants accepted into the Homeownership Program struggle with inadequate housing.  Often one or more of the following exists: unsafe, unaffordable, unhealthy, inaccessible, or overcrowded.
3. Willing to partner with us.
Each adult completes 200 hours of sweat equity in lieu of a traditional down payment.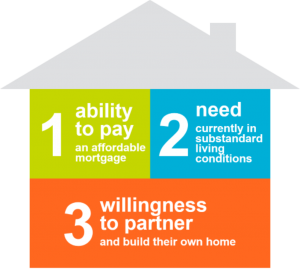 You must fall within the income guidelines.
To view the income guidelines
Applying for Homeownership
1.If you believe you meet the qualifications listed above and would like to learn more about applying, please submit a Pre-Application Form.
 2. After you submit the pre-application, our family services manager will reach out with further information and the full application.
3. To prepare for the full application, check out the list of required documents below.
4. Once you submit the application, it will be reviewed by Habitat's family services committee, and we will be in touch with further details.
Note: HFHSCMN will not proselytize, nor will HFHSCMN work with entities or individuals who insist on proselytizing as part of their work with HFHSCMN. This means HFHSCMN will not offer assistance on the expressed or implied condition that people must adhere to or convert to a particular faith or listen and respond to messaging designed to induce conversion to a particular faith.
We're here to help.
If you need help filling out the application, or if you have any questions about Habitat for Humanity, please feel free to call our office at 507-388-2081.