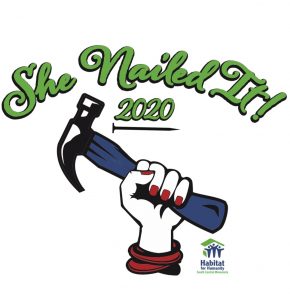 "SHE NAILED IT!" VOLUNTEER EVENT
Habitat for Humanity of South Central Minnesota is hosting a new initiative as a good response to those feeling restricted by the COVID crisis. The initiative—called "She Nailed It!"—is designed to bring together women volunteers to further the home-building and life-transforming mission of Habitat.
Habitat is looking for women who want to participate in a day of service during a two- week period starting on September 21 and ending on October 3. The organization will be limiting the number of volunteers to five per day for a day of learning and participating in the life-changing work of Habitat. Shifts will start at 9 a.m. and end at 2 p.m. Volunteers will be working on the construction of homes in either St. Peter or Nicollet. Volunteers can sign up individually or register as a team. Participants do not need to have any previous construction skills. Habitat's Construction Manager will be on-site to provide instruction and guidance, and to ensure that social distancing practices are followed. Volunteers will gain hands-on experience in basic construction techniques, enabling them to make a significant impact.
Businesses are also encouraged to become sponsors of the event and send female employees, friends, or relatives. To accommodate the work schedules of the sponsors, Habitat will be flexible in scheduling the five-hour shifts.
If you would like more information on a sponsorship please contact Dawn Barrett at 507-388-2081 ext 202