Back by popular demand! From September 13th through October 1st, you can host a team of five women to work on one of our construction sites for a five-hour shift (9 am to 2 pm). Help us "hammer it home!" No experience is needed. Help raise the roof, raise some money for Habitat, and help other women raise their families in safe and affordable houses.
To learn more about sponsoring a day during She Nailed It!, reach out to Dawn Barrett at dawn.barrett@habitatscmn.org or call 507-388-2081 ext 202.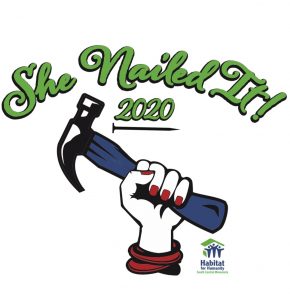 "SHE NAILED IT!" VOLUNTEER EVENT
Our "She Nailed It!" event was a rocking success! More than 50 female volunteers—who were supported by 22 sponsors and 12 businesses who provided lunch—sawed, nailed, constructed walls, and installed flooring at two houses in Nicollet and St. Peter. The progress they made on the houses was simply amazing! We'll welcome them back anytime.