Volunteer Opportunities
Why volunteer at Habitat for Humanity South Central Minnesota?
Challenge yourself while helping others.
Benefit your career and build your resume: develop new job skills, explore career possibilities without risk — all while volunteering for a great cause.
Make new friends, build personal contacts, develop communication skills, and share your skills with others.
Studies show folks who volunteer live longer and hold higher levels of self-confidence. By making a difference, having fun, and feeling appreciated, it's clear to see why.
Construction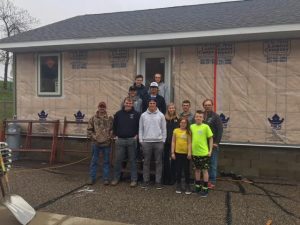 Construction volunteers at Habitat building sites perform a variety of skilled and unskilled tasks including:
Framing
Insulating
Painting
Siding
Tiling and more
Construction work is conducted year-round, weekdays 9 a.m. to 3 p.m., both indoors and outdoors. Saturday builds by appointment are also available. Volunteers are guided by our professional staff who teach the necessary skills to finish the job well. Volunteering at the job site is a great way to keep your body and mind sharp by combining physical work with problem-solving skills. Enjoy the vast variety of tasks construction work offers while experiencing the satisfaction of building a home for a family in need – from the ground up. Construction experience is not required.
Requirements:
18 years of age or older
Be able to physically perform duties such as lifting up to 20 lbs.
Have a great attitude and a willingness to learn
Office
The office volunteer position is housed in our Mankato office. Volunteers perform a wide range of administrative tasks to support Habitat's non-profit operational responsibilities. Duties may include filing, preparing mailing, grant writing, creating brochures or flyers, website updates, and data entry. Hours of operation are weekdays 8 a.m. to 5 p.m. Short-term or long-term, active or occasional volunteering is available.
Read more
Responsibilities:
Assist staff with day-to-day operations
Greet, direct, and inform visitors
Keep office organized
Help prepare printed and electronic material
Requirements:
Ability to display professionalism and maintain confidentiality
Ability to work independently, yet seek guidance from staff when necessary
Basic computer skills; prefer knowledge in using Adobe Creative Suite, Excel, Word, and PowerPoint
Self-motivation
Ability to communicate effectively
Desire for personal growth
Internships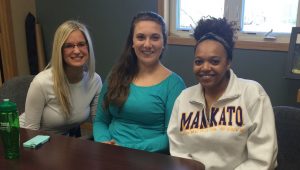 Internships not only build resumes for college graduates, but also provide job training aimed at showcasing marketable skills. By interning at Habitat, interns gain valuable real-world experience with the opportunity to make a difference in people's lives, join in socializing activities, increase professional portfolio capacity, and foster personal growth. Internship hours are flexible: weekdays, 8 a.m. to 5 p.m. Occasional evenings or weekends for events may occur.
Read more
Office Interns
Required skills:
Basic computer knowledge (MS Office)
Social media experience
Web design (some familiarity)
Valid driver's license
Professional demeanor
Maintain confidentiality
Support the mission of Habitat
Ability to work independently yet seek guidance from supervisors as needed
Comfort in speaking to groups
All office interns will complete an orientation with staff highlighting basic office operations, ReStore donations, homeowner application assistance, phone etiquette, etc.
Construction Interns
Due to the nature of construction work, specific requirements are necessary for a construction management internship position:
18 years of age or older
Valid driver's licence
Ability to lift and carry 50 lbs.
Proficient computer skills
Demonstrate success in leading and managing volunteer groups (both experienced and inexperienced)
Support the Habitat mission
To Volunteer
If you are interested in volunteering with Habitat for Humanity South Central Minnesota in any capacity, please click the button below. The Volunteer Coordinator will contact you.