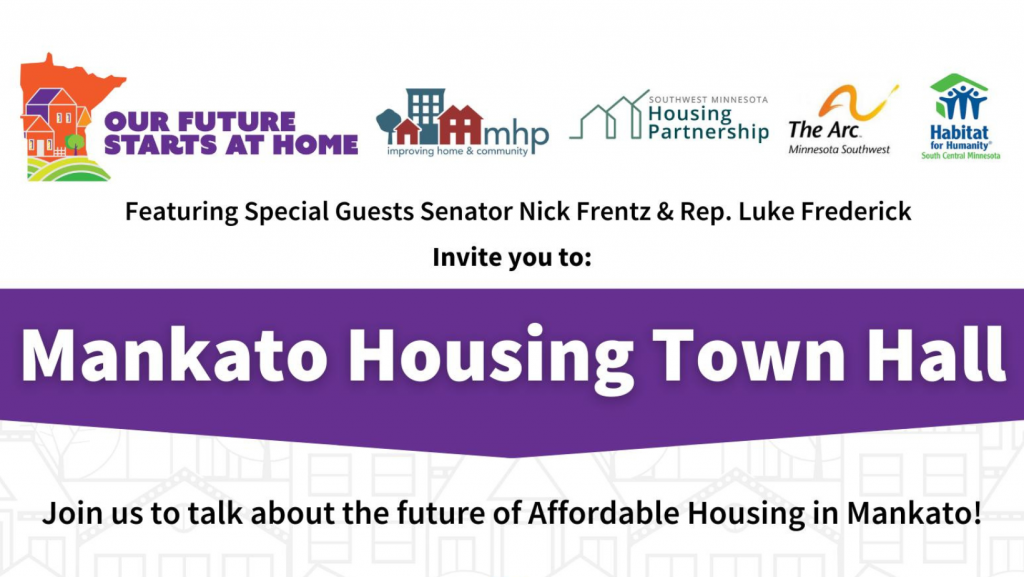 MANKATO – Representative Jeff Brand, Mankato Mayor Najwa Massad, and Saint Peter City Council Member Keri Johnson will join housing advocates, leaders, Mankato residents who have experienced housing insecurity, and neighbors to discuss strategies to improve our housing system and build momentum for statewide housing solutions. Our Future Starts At Home is driving the movement for an amendment to the Minnesota State Constitution to dedicate sustainable, predictable, and ongoing funding to real solutions to our housing crisis. The Coalition has been engaging with Minnesotans throughout our state, has received the endorsement of over 50 housing, faith, and community organizations, and has 27 authors in the Minnesota Legislature.
Minnesotans, no matter what we look like or where we come from, should all have a safe, stable place to call home. One in every four Minnesota families– a figure even higher in Mankato with nearly 8,000 residents of Blue Earth County alone– are forced to choose between paying for a roof over their heads and other basic needs like food and medicine. While significant, this crisis is solvable. The Mankato Area Housing Town Hall will bring together critical stakeholders to explore the issues, realities, and remedies.
This event is co-hosted by The Arc of Minnesota, Habitat for Humanity of South Central Minnesota, Southwest Minnesota Housing Partnership, and the statewide Minnesota Housing Partnership (MHP).
WHO: Representative Jeff Brand, Mankato Mayor Najwa Massad, Saint Peter City Council Member Keri Johnson, Our Future Starts At Home Coalition
WHERE: Blue Earth County Historical Society, 424 Warren St, Mankato, MN 56001
WHAT: Mankato Area Housing Town Hall
WHEN: Tuesday, October 24, 2023, 5:30pm
Our Future Starts at Home is a coalition of over 50 housing, faith, and community groups across the state fighting for securing sustainable, predictable, and ongoing funding—an essential part of fixing Minnesota's broken housing system. For more information, please visit www.OurHomesMN.org